2019
Bring and Buy Plant Sale – Saturday 11th May
to support the Millennium Green and Halesworth Library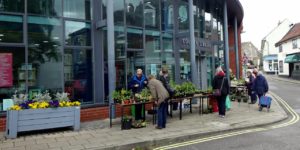 Many thanks to all of you who supported the Plant Sale on Saturday by donating or buying plants, helping at the stall or just stopping by for a friendly word.  The rain held off and it was an enjoyable morning.  Nearly £450.00 was raised which has been divided between the Green and the Library.
If you weren't there on Saturday, you missed some good plants so look out for the sale in May 2020 and remember when you're splitting plants or sowing seeds that we'll be grateful for all your contributions.
WinterLight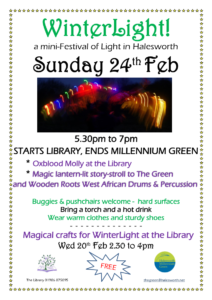 Fifteen-foot glow-caterpillar spotted on the Green and not only that, but a human-sized illuminated moth as well. This was Halesworth's fourth annual WinterLight! festival run by the Library and the Millennium Green at the end of the half-term weekend. This year's Festival told a story of metamorphosis, but with startling differences.
Participants watched Oxblood Molly's inventive and colourful dancing at the Library and then the story-telling began. Children, who had come with their own sock-caterpillars made at the Library's workshop, helped a small lantern-caterpillar magically become enormous – 15 foot long, lit from within and supported by 14 human legs. This hungry beast led the procession of around 100 adults and children through the Town Park and to a far corner of the Millennium Green where it was met with stirring drumming by Wooden Roots West African Drums and Percussion.  The enormous caterpillar collapsed into its cocoon to emerge, finally, as a human-sized and fully illuminated moth.
The Festival has developed from a simple wassailing event in 2016 to provide the spectacle of the Ghost of Fred the Wherryman in 2017, the Alesworth Howl in 2018, and this year the spotted caterpillar becoming  a rainbow-underwing moth.  It's all done by volunteers:  Oxblood Molly bring their music and dance, Adele Goodchild and Nicky Rowbottom of the Green made the giant caterpillar and moth, Meraylah Allwood for the Library created and operated props with the help of local children, Wooden Roots is a leading supplier of African drum and other percussion instruments, and members of Bungay Camera Club created a beautiful and entertaining photographic record.