2016
ANNUAL MEETING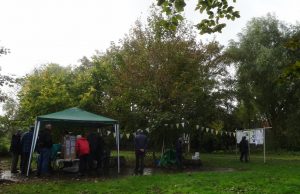 An outdoor event in October?  always a risk and the rain did come down for a while. Nevertheless, many people enjoyed the displays and games of the Green's Drop-In Annual Open Morning. There was lots of interest in, and feedback on, our suggestions for what might be done with Chestnut Meadow.
The wildlife highlight of the Drop-In morning was the attendance of not one or even two, but three water voles along the New Reach.
ANGLIA IN BLOOM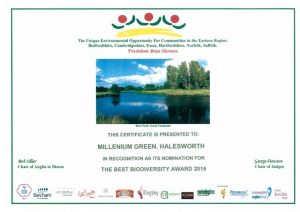 Certificate presented to Halesworth Millennium Green in recognition as Halesworth's
Nomination for The Best Biodiversity Award 2016
WINTER GLOW WORMS 14th February

from Monday's Eastern Daily Press " The people of Halesworth gathered to bless the town's fruit trees in the hope of a good harvest later in the year.
Organised by Halesworth Library and the Millennium Green volunteers dozens gathered at dusk to take part in the ancient tradition at the community orchard and, while the ceremony itself may be historic, it is the first time the event has been held in the town.
Nicky Rowbottom, one of the co-ordinators, said: 'we wanted to encourage people to get out into the community orchard and see the Millennium Green at different times of the day and different times of the year. It's not just a place for summer and it's not just a place for daylight. It's really lovely to have so many people, we never dreamed that so many would turn up'.
Earlier in the day, children made lanterns in a special craft session at the town's library, then all were invited to the Green for a candlelit procession to the orchard led by the Oxblood musicians.
 
Once at the orchard each person took a small piece of fruit cake to put in the trees' branches and poured apple juice on their roots while reciting a short poem.
Librarian Meraylah Allwood led the blessing, known as 'wassailing' and said; 'for a couple of years we've thought it would be nice to have a winter festival of lights on the Millennium Green and this year we just thought we'd go for it. What's great is we've got really little children here and the oldest person is about 85.'