2017
SHARING EXPERIENCE WITH YOUNG NATURE CONSERVATIONISTS FROM TURKEY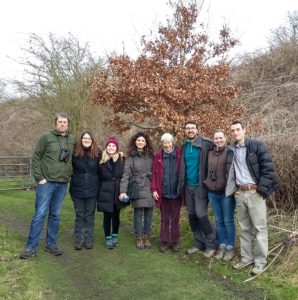 PHOTO Names l to r: Dan Bradbury (WLT), Ozlem Parlar, Muge Ocal, Sevgi Kaynar (NATURA), Sal Jenkinson (Millennium Green), Okan Urkur (NATURA), Charlotte Beckham & Jesse Timberlake (WLT) at the entrance to Arthur's Wood.
The Green and the World Land Trust have worked together on many things, and in February the Green was delighted to be included in a visit to Suffolk by some pioneering conservationists from Turkey (NATURA) whom WLT have been hosting. The NATURA campaign is to prevent further loss of precious and antique Oriental Sweetgum forest (Liquidambar orientalis) which can be found only in southwestern Turkey, and on Rhodes and Cyprus.  In the last 70 years the area of this unique forest has shrunk by two-thirds (from over 6000ha to under 2000ha) as a result of urban and agricultural encroachment, and is close to being unsustainable.
These young volunteers who have done serious scientific background work are mounting a campaign to reconnect dispersed segments of the remaining forests by planting connecting corridors. They aim to increase the total amount to a much more sustainable 2500ha. Getting the local people behind this campaign will be hard because of the apparent conflicts with urban and agricultural needs, and setting up the organisation to deliver the project will be a challenge all in itself because there are no precedents in Turkey of land management for the environment by bodies other than government. So on one day in February these representatives of NATURA visited Minsmere (possibly the largest non-governmental conservation charity in Britain with an army of paid staff and substantial premises) and Halesworth Millennium Green (one of the smallest, with no paid staff and to date nothing more than a garage for tool storage! ) As well as the question of how to organise, engagement with the public is enormously challenging for NATURA and we were glad to share our experience of working with local people, from those who do the land management to those who support the Green with funding or sheer enthusiasm.  We wish NATURA and WLT well.
WINTERLIGHT! FESTIVAL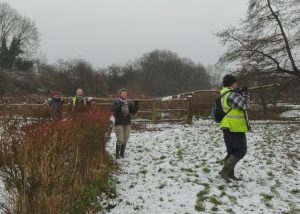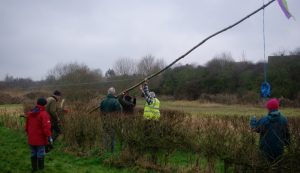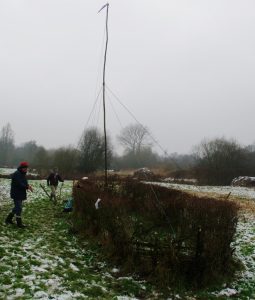 The last wherry to use the New Reach as a commercial waterway was Fred Lambert's Star, in the early 1900s. More than 100 years later at the WinterLight! Festival in February in 2017 we saluted his memory and raised a 30 foot mast on the willow wherry to celebrate the days when these HGVs of water transport would have sailed between the meadows and right into Halesworth. More than 70 people,
including many children who had made lanterns at the Library's afternoon workshop,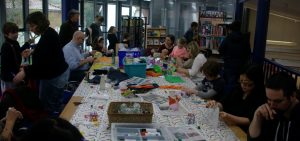 made a lantern-lit evening procession led by the Oxblood Mollies from the Library to the Green.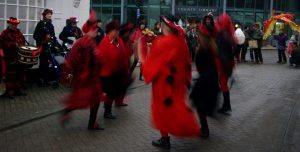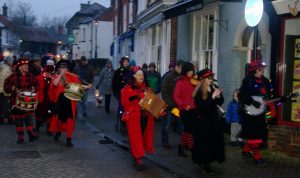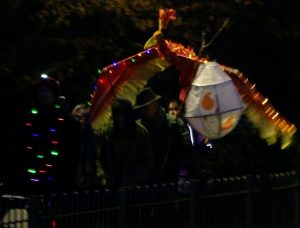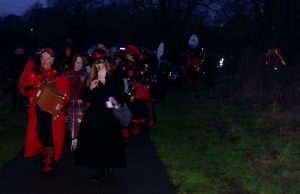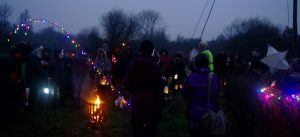 White Bridge twinkled as never before, a bright blue star was hoisted on the mast,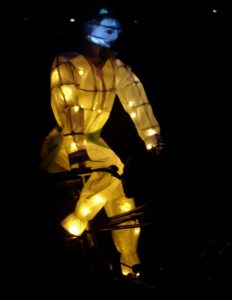 and finally the ghost of the Green made his appearance biking down to his wherry – as many wherrymen did, morning and evening, to begin and finish their day's work.